Here's the Scoop!!
Ice Cream Stand hours are Monday-Saturday 11am-7pm and Sunday 11am-6pm!
We are servicing from the outside only, and the patio is open. Our Bishop's Own Ice Cream is still available in the freezer department for in-store pick up or online orders. Please follow us on Facebook for information to come. We appreciate your understanding during this difficult time.
Bishop's Orchards Creamery features delicious flavors, sundaes, ice cream sandwiches and our specialty… the Bishop's Blitz!!! Delicious and fun flavors for everyone include Unicorn Delight, Moose Tracks, Fly Fishing Fudge and Maple Walnut!! Specialty flavors for dietary needs are also available!
The Ice Cream Stand is located off the side of the Farm Market, at 1355 Boston Post Road in Guilford.
All Cones (except waffle) are available in sugar or wafer cones:
Kiddie Cup/Cone
Small Cup/Cone
Medium Cup/Cone
Large Cup/Cone
Waffle Cone
Over 20 different flavors available daily, including hard serve, soft serve, frozen yogurt and sorbet. Flavors available may differ day to day. Make sure to ask about specialty flavors for dietary needs.
Soft Serve:
Hard Serve:
Apple Pie
Aroma Joe's PB Mocha
Black Raspberry
Butter Pecan
Camp Coffee
Campfire S'mores
Cannoli
Chocolate
Chocolate Chip
Chocolate Lovers Chocolate
Cookie Dough
Cookies 'n Cream
Dough Your Job
Fly Fishing Fudge
Full Quart Pretz
Maine Black Bear
Maine Deer Tracks
Maine Wild Blueberry
Maple Walnut
Mint Chocolate Chip
Mississippi Mud Pie
Moose Tracks
Muddy Boots
Old Fashioned Vanilla
Peanut Butter Caramel Cookie Dough
Peanut BUtter Pie
Pink Peppermint Stick
Pistachio Nut
Pumpkin
Pumpkin Pecan Praline Whirl
Scoop-a-Snack
Sea Salt Caramel Truffle
Southern Peach
Strawberry
Strawberry Cheesecake
Toasted Coconut
Unicorn Delight
Frozen Yogurt:
Black Raspberry Chocolate Chip
Chocolate Peanut Butter Cup
No Sugar Added & Non Fat:
Vanilla with Raspberry Swirl
Sorbet:
Strawberry Lemonade
Raspberry
We have everything you could need from candy pieces to hard shell! Top your ice cream with delicious treats:
Chocolate Hard Shell Dip
Cherry Hard Shell Dip
Blue Raspberry Hard Shell Dip
Rainbow Sprinkles
Chocolate Sprinkles
Chocolate Crunchies
Marshmallow Sauce
Peanut Butter Sauce
Chocolate Sauce
Hot Fudge
Caramel
Reese's Pieces
Butterfinger
Snickers
Cherries
Oreo
M&M's
Kit Kat
Heath
Gummi Bears
Peanut Butter Cups
Chocolate Chip Cookie Dough
Seasonal Fresh Fruit
Vanilla soft sere ice cream with up to 4 flavors swirled in! Flavors available may differ day to day.
Mango
Raspberry
Butterscotch
Bubblegum
Blue Goo
Pina Colada
Cheesecake
Cool Mint
Cookie Monster Sundae – Ice cream served over a cookie, topped with hot fudge, whipped cream and a cherry on top!
Apple Cinnamon Donut Sundae – Ice cream served over Bishop's own apple cider donut, topped with caramel and whipped cream!
Fudge Brownie Sundae – Ice cream served over a brownie, topped with hot fudge, whipped cream and a cherry on top!
Bishop's take on a blizzard/flurry! A frozen explosion, bursting with your choice of soft serve and up to 2 toppings!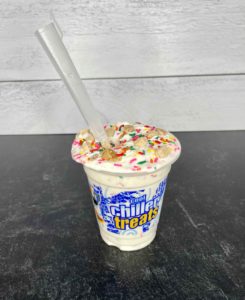 Vanilla ice cream with your choice of Chocolate Chunk, Oreo or No Gluten Chocolate Chip Cookie.
Shake things up with your favorite flavor! All toppings can be added but cost extra.